Contact us
For inquiries or comments about the FarsiWeb Project, or any help we may be able to provide, you can contact The FarsiWeb Project Group at info@farsiweb.info. Please note that we are not always able to answer emails.
For business affairs, please contact Sharif FarsiWeb, Inc.: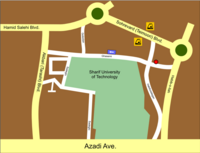 +98 21 66025705

66057224
66056819
66082554
No. 5,
Shahid Ghasemi Street,
Habibollah Street,
Azadi Avenue,
Tehran
Iran
Post Code: 14599

The FarsiWeb lab was in Sharif University until August 2005, but has since moved out of the campus. The lab is still in walking distance from Sharif campus. For directions, you can use the map at the right side of this page.